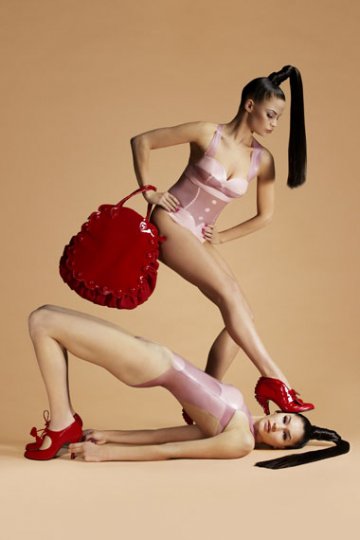 dear diary,
i've always thought fashion designers were very cool, if not the coolest. Except i've recently begun to realize that this isn't always true and maybe only applies to the designers i happen to look up to. Or perhaps i have the wrong definition of 'cool'. Anyhoo, I noticed this when i was at berlin's bread & butter in July where I was so excited to visit the tradeshow and be amongst designers and fashion-y people and some of my friends were put off by them because they were, well, all fashion-y. I was quite surprised to find how irritated they were by these people and i thought ' so in that case, you guys find me annoying as well?'. It was up until when we went to this fashion-y party later that night where only the fashion-y people were being invited - it struck me as to how boring designers can actually be. My friends already getting annoyed from the moment we stepped in the door by everybody in there; young designers all in black or other colours that blend in with the furniture, sitting down enjoying their drinks and staring into space with expensive drinks in their hands - supposedly looking very 'chic', all of them. This in a lay low setting, cheap couches and a good electro dj spinning in the corner. Am i amongst zombies?
What's a party if not to burn the dancefloor, people?
They seem like they were all too artsy to actually be moved by music which makes complete sense. Not. So I guess wacky designers I love like Betsey Johnson are the absolute rare ones - which is probably what would make me kill for her designs. Ain't saying that they should go away, because it's with the existence of designers like these that make the ones that are truly different stand out. I mean, i'm sure there are loads of people who love zombie clothing - they'd be the ones 'looking good' by the bar and never be seen burning the dancefloors like they should.
Just saying!
ze.
x